Knitting patterns
Here be sock monsters!
Charybdis Sock pattern


In Greek mythology, Charybdis was a sea monster who belched out water in a menacing and deadly whirlpool. There's nothing menacing about the toe up construction of these socks or deadly about their simple short row heel, but there are whirlpools – a simple stitch pattern winds its way across each instep and spirals up the leg of each sock.

Download the free pattern pdf here.
Or if you're logged into Ravelry you can download it here.





Scylla Sock pattern 

Just when you thought it was safe to go back in the water, here comes the second part of a deadly sea monster double act with Charybdis! Accounts of Scylla's appearance don't quite match up as to her number of heads, tentacles, etc (perhaps no one stuck around long enough for a proper look?). But they all agree she had scales. And teeth. And lots of them. Pretty much like these toe-up socks that use slipstitch patterns to create teeth and scales a-plenty.
Purchase Scylla for instant PDF download:
1. On Ravelry – buy now
2. On Etsy – buy now
Jabbersocky sock pattern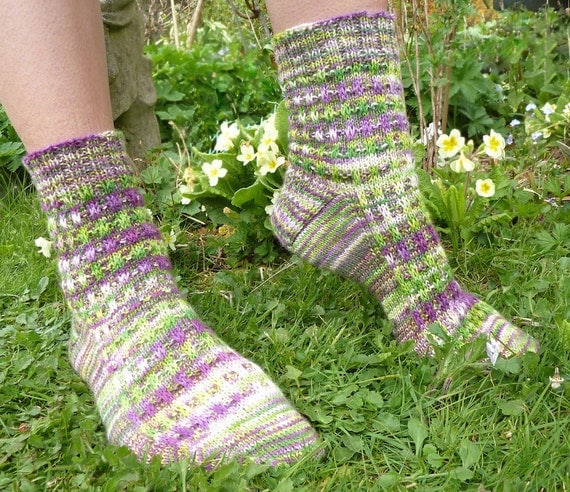 You know the story: Man hears about "deadly monster", man slays monster, scoring adulation and appearances on late-night talk shows. Poor Jabbersock – another victim of negative spin in a culture driven by appearances. Yes, so his slipstitch seersucker skin is distinctive. His eye of partridge heel might cause a stir. But, whiffling through his beloved primroses in the tulgey wood, all he wants is company. He knows he burbles, but he still can't make out why he asks passersby in for Lapsang Souchong and they whip out weaponry.
(I put it to you: can a creature that "whiffles" and "burbles" really be that deadly?!)
So put down your vorpal sword, pick up your needles. Instead of slaying the Jabbersock, why not invite him in for a nice frabjous cup of tea?
Purchase Jabbersocky for instant PDF download:
1. On Ravelry – buy now
2. On Etsy – buy now
Ogopogo sock pattern
 You've heard of the Loch Ness Monster. Now meet his Canadian cousin, Ogopogo, who lives somewhere near the bottom of Lake Okanagan.
Ogopogo has a penchant for pogo sticks and dancing the "bogo pogo". (Both quite tricky in water, though he's had 500 years to master them.) He loves to showcase these skills to bewilder lone tourists and entertain awe-struck children. (All, as you might expect, fated not to be believed: "A lake monster on a pogo stick? Well, really – I've never heard such nonsense!")
Slip-stitch cables slip-slip-slither up his body, worked from the toe-up. (But Ogopogo likes to keep things simple, so the pattern tells you how to work the cables without a cable needle). His serpentine scales work with variegated yarns, and his back and front panels are interchangeable, so you can mix things up to create a different sock…
Too good for a rare sighting in your sock drawer, why not flash some foot and take him out for the Big Reveal…?
Purchase Ogopogo for instant PDF download:
1. On Ravelry – buy now
2. On Etsy – buy now